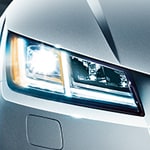 The Audi TT Coupe has become a special vehicle in more ways than one. It is a beautiful machine that defies expectations. When you are looking for a luxury coupe that delivers stellar performance time and time again, this is the one for you. It seems to have accounted for just about everything you could hope for with a vehicle in this class.
One of the performance features that you will notice on the Audi TT Coupe is the drive select option. This allows the driver the opportunity to select between comfort, dynamic, individual, and auto modes. You will be able to decide how you would like the car to perform while driving under certain conditions.
Going from zero to sixty in just 5.2 seconds is made possible in the Audi TT Coupe thanks to the powerful engine that is built into its design. It has 228 horsepower and 258 lb/ft of torque, so you will love the way this vehicle accelerates.