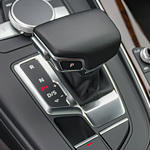 No matter where you live in Hyannis, MA, the Audi A4 comes in a configuration perfect for you and your family. The Audi A4 comes in two designs, allroad (an SUV) and sedan. Each design has three trim levels from which to choose. Both the A4 allroad and the sedan come in Premium, Premium Plus, and Prestige trim levels. Each trim level is powered by a different engine offering anywhere from 188-horsepower to 248-horsepower, depending on your needs and desires.
While the three trims of the Allroad SUV come in all-wheel drive, each trim level of the sedan models offers the option of an all-wheel-drive unit or a front-wheel-drive mechanism. The versatility in drive units allows you to shop for the Audi of your choice.
Come to Audi Cape Cod to see your new Audi A4. All models are in stock, and we offer free test drives to qualified customers.