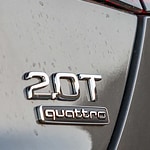 Audi A5 Coupe's interior and exterior design screams luxury, sophistication, and power. That's why the A5 Coupe continues to do well in its category, capturing fans young and seasoned. A closer look at the A5 Coupe's design features illustrates why it's so appealing to so many. We here at Audi Cape Cod chose the following two design features as examples.
A5 Coupe's headlights and taillights are all LED, a lighting technology renowned for its super brightness and energy efficiency. The headlights also boast high beam assist, a function that turns the high beams off and on as needed. As an added perk, Audi A5 Coupe's taillights and headlights have a charming animation feature that makes them greet you or bid farewell when you come and go.
MMI is the A5 Coupe's infotainment interface, a 10.1-inch touchscreen that grants direct access to navigation, messages, playlists, and a wide variety of infotainment options. MMI's controls can be personalized to suit your fingertip size, dexterity, visual acuity, or driving profile.