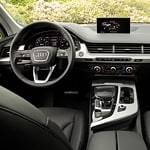 It truly seems like everyone wants a taste of technological mastery behind the wheel these days, and the stylish Audi Q7 provides a capacity for heightened digital brilliance like none other. For a luxurious midsize SUV, this universally cherished wonder offers an ideal assortment of virtually interconnected abilities that are highly sought right now in Hyannis, MA.
Music lovers are boldly accommodated by Bang & Olufsen's extraordinary 3D Advanced Sound System that heralds 23 speakers and a grand 23-channel 1,920-watt amplifier. The sleek dashboard's headliner and tweeters finalize this illustrious arrangement by facilitating immersive audio distribution and enveloping acoustics.
The Q7 is also equipped with Audi Connect, which enables access to swift voice commands and a powerful Wi-Fi hotspot. To thoroughly expand your perspective on the capacity of modern automotive technology, just head to Audi Cape Cod for a test drive at the time that suits your schedule best.