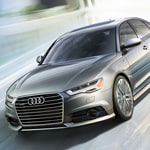 The Audi A6 is an amazing automobile to say the least. This luxury sedan is very popular among a wide demographic of people. Consumers can expect high performance, extreme amounts of comfort as well as exceptional good-looks. The A6 can seat at least five people in its cabin, and there are premium leather seats.
The Audi A6 stands out when it comes to lighting. The front and rear LEDs possesses animation that's like nonother. The front LEDs have a beautiful matric design that's eye catching. The car's interior lighting is ambient by all means. These soft colors will alternate between 30 different hues. In addition to that, the Audi A6 comes with a phenomenal instrument cluster that's vivid in appearance. There are also multiple MMI screens that are located in the center dash.
We welcome all interested buyers to head over to our location for first-hand experience of the Audi A6.